The Ender Golem spawns near every
Farlander
house and like the Farlanders they have different eye colors.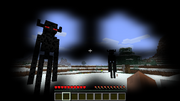 Behaviour
They attack Zombies , Looters, Rebel Farlanders, Wanderers , Iron Golems and the player. If the player wants to avoid a fight with the Ender Golem, simply wear a pumpkin and the Ender Golem won't attack. 
Drop loot
Trivia
This mob was based on a monster named Ender Colossus from a video on youtube.